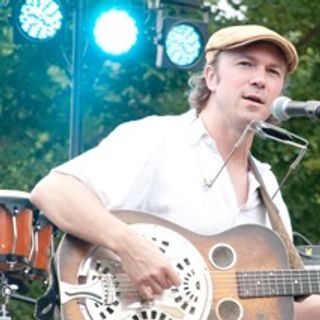 Bio
About
Jay Brown is a roots music one-man-band from Black Mountain, North Carolina, who has been playing guitar since the age of 7 and writing songs since high school. A prolific songwriter, Jay's performance repertoire contains more than 100 original songs, as well as hundreds of covers from a wide spectrum of genres.  Jay has spent years traveling and playing around the U.S., absorbing our rich musical heritage and performing with artists such as Doc Watson, Old Crow Medicine Show, and Etta Baker.  Jay has also taken multiple trips to Ghana, West Africa, where he studied and performed traditional African music with the Ghanaians.
His eclectic musical tastes found expression in 1998, when he became a founding member of Lazybirds, a band that blends a wide variety of musical styles, including jazz and blues, country and rock 'n roll, to create a fresh and soul stirring sound.  Lazybirds have been a mainstay of the North Carolina roots music scene for over 20 years.
Jay also formed the Indian folk fusion band Shantavaani with his wife Aditi, which put out 3 classic albums during its 2 year period.  Jay continues to perform with Aditi, blending Aditi's Indian folk and classical influences with his own folk and original music. More recently Aditi and Jay can be found playing in the acoustic band The Appalucians, along with Angie Heiman and Cas Sochacki, of The Blushin' Roulettes. The Appalucians debut album Bright Hills was a long running top 10 folk album on college radio in 2018.
Jay is a board certified music therapist, working 2 days a week as a hospice music therapist and teacher in Asheville. This enriching work has been a deepening influence in Jay's music over the years.
A versatile musician, Jay is as much at home swingin' the blues and boogie with his buddies in the Lazybirds as he is playing songwriter showcases and house concerts, but you can usually find him blending his styles in the pubs and listening rooms around the Appalachian mountains of North Carolina.
Quotes
"The secret is out , Jay Brown is the most authentic songster to come out of the Carolina High Country since a man named Doc Watson" 
-  Ketch Secor, Old Crow Medicine Show 
"The timeless voice of the Poet" 
-  Performing Songwriter Magazine 
There are few more talented or charming additions to the music scene here than Jay Brown. With the Lazybirds, he captures the spirit of old timey, early country, jazz and ragtime. Formed in 1996, the quartet developed a following in the Boone area, and their music and followers spread out.  Asheville Citizen Times 
With Beginner Mind, Jay Brown might just be bringing real Americana to the masses    http://thecutpricejukebox.wordpress.com 
Jay Brown has been at it for a while as a long time member of the Lazybirds. His world and music experience comes through all over this solo release, a warm and worthy effort that should continue establishing his brand as one to reckon with.     http://www.beardedmagazine.com 
Backed by his deft finger picking and lilting melodies, Brown needs little more than to romanticize a few of his past experiences under the moon with the wind at his back to make us feel like we're there with him… and it feels pretty damn good.    http://www.thevinyldistrict.com 
What this forms when combined is a complete package of modernity and timelessness, and a lot of heart.  http://popdose.com 
Singer/songwriter Jay Brown may be one of the most eclectic artists ever to cross our pages, playing across a multitude of genres across a several types of stage acts.  http://www.penseyeviewnew.com 
For the better part of two decades, Jay Brown has been filling the air with music. As a member of the blues/swing combo Lazybirds, Brown mastered a distinctive rollicking bluesy jazz guitar style.  http://www.wataugademocrat.com 
And if there is a more inventive country blues harpist currently recording than Jay Brown, I need and Introduction." (Rock n Reel Magazine, UK)   http://lazybirds.net/media 
Listening to Jay Brown's debut disc might possibly make you a believer in time travel. The first listen could have you thinking you're somewhere in the Appalachian Mountains right around the turn of the century. (Performing Songwriter, 1996)  http://www.jaybrownmusic.com/jaybrownreview.html 
The music is appropriately raw and rootsy but not unrefined. There is some striking musicianship here… Brown has a smooth, handsome voice that is equally at home dropping funny lines and poetic observations a la Paul Simon."   
http://whisperinandhollerin.com/reviews/review.asp?id=8771 
The level of improvement that singer/songwriter Jay Brown reveals with each new release hints at a talent that just might bust the walls open of the mainstream soon.  Soul to Soul is among the year's best, easily.   http://www.nodepression.com/profiles/blogs/album-review-jay-brown-soul-to-soul 
On "Soul to Soul," Brown proves why other musicians look to him for inspiration 
http://mountaintimes.com/columns-album-reviews/articles/Soul-to-Soul-id-024157